Covid-19 Information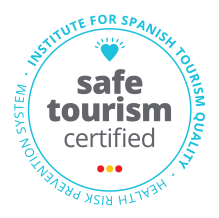 Your peace of mind is the most important thing
Our hotels have been certified by the ICTE (Institute for Spanish Tourist Quality) with the Safe Tourism Certified seal as a guarantee of implementation of the Health Risk Prevention System against Covid-19.
Welcome to
One Shot Hotels
We are a young boutique hotel chain with an elegant design and ideal locations in the centre of Madrid, Valencia, Seville and San Sebastián.
Our hotels always share the same philosophy and way of doing things. Art and photography are our common bond. At the same time, we make each hotel special and different to the rest. Our greatest challenge is surprising you. We hope to see you very soon.
More information
Madrid
The city that never sleeps
Valencia
The city that inspires
Seville
The city that captivates you
San Sebastián
A city to savour
Upcoming destinations
@oneshot_hotels
Follow us on Instagram